WORLD NAKED BIKE RIDE 2006 IN SAN FRANCISCO




June 10, 2006 was the date for the World Naked Bike Ride, which -- as its name suggests -- is an international political event at which protesters take off all their clothes and ride bicycles through various cities around the globe.

The focus of the protest is theoretically to encourage people to give up their "dependence on fossil fuel" -- but in practice the messages (which the organizers tell participants to paint directly on their bodies) are more scattered, ranging from "free speech" to presidential politics.

I attended the San Francisco version of the event, which started at noon in the city's Justin Herman Plaza.

Most of the photos presented below are self-explanatory (and self-parodying), so I'll keep the captions to a minimum.




Women's panties with strategically placed hole -- check.
Smiley face on chest -- check.
Ready to roll!



Propeller beanies and high-tech peg legs were in evidence.



More than I need to know.



The media, as usual, sidestepped any unpleasantness.



Of the 60 or so participants, one in particular drew the most attention.



She generally had a crowd around her.



But a stern-looking and well-built boyfriend stood by to fend off the would-be suitors.



This guy appeared to be the Man in Charge. He had a European accent as he gave orders to the crowd.



If you mean "Free to be forced to look at penises in public," then you've got a point there.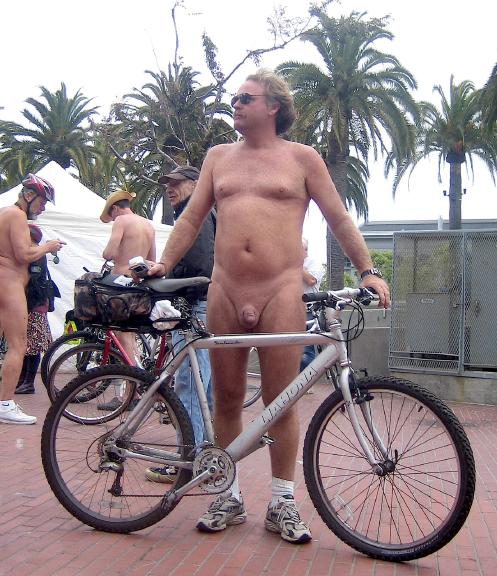 A man and his bicycle.



Some participants were downright creepy.



In certain cases, underwear choice was even more embarrassing than total nudity.



One last kiss, and...



Let the ride begin!



Follow the leader, gentlemen.



Well, it was a cold day.



Is this really a political protest, or just an excuse for exhibitionists to get the thrill of exposing themselves to an unwitting audience?



Let's ask this little girl what she thinks about free speech and fossil fuels. Her mother was none too pleased, and dragged the lass away as quickly as possible.



Through the market we go.



The guy was an advocate of the "off to the side" technique of nude bike riding.



Tourists love San Francisco.



And off into the streets of downtown.



Free speech was had by all.



Goodbye! And don't forget to reelect Gore!






(Click here to return to the main zombietime page.)